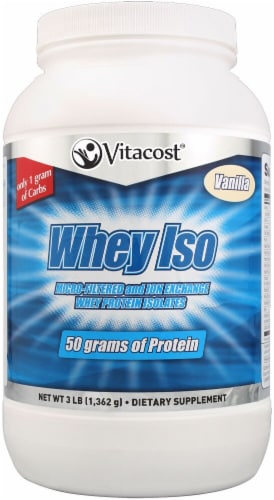 Hover to Zoom
Vitacost Whey ISO Protein Isolate Powder
Product Details
What is whey protein isolate?
Whey protein is a complete, high-quality form of protein processed from cow's milk. It supplies branched chain amino acids, which are essential amino acids that can't be made by the body but must rather be obtained from food.
There are two types of whey protein: whey protein concentrate and whey protein isolate. Whey protein isolate is the purest form of whey protein, containing more than 90 percent protein content and little to no fat, lactose or cholesterol. It's easily digested and quickly absorbed.
How does Vitacost Whey Iso Protein Isolate support health?
Promotes muscle recovery from sports activities; maintains lean muscle mass.*
Promotes immune system recovery after physical activities.*
Maintains optimal performance during exercise.*
Supports muscle protein synthesis in the young and the aged.*
Whey supports the liver's production of glutathione, which is a very powerful antioxidant.*
Supports healthy liver function.*
Why choose Vitacost Whey Iso Protein Isolate?
Delivers 50 grams of protein per serving.
Contains only one gram of carbohydrates.
Delicious vanilla flavor.
Provides 22 shakes per container.
No blender required!
Better value than other whey protein isolate shakes on the market.
*These statements have not been evaluated by the Food and Drug Administration. This product is not intended to diagnose, treat, cure or prevent any disease.
---