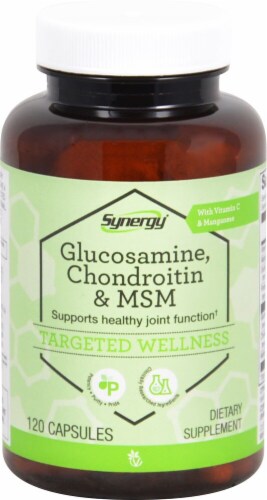 Hover to Zoom
Vitacost Synergy Glucosamine Chondroitin & MSM Capsules
Product Details
Glucosamine Chondroitin & MSM is a combination formula that contains building block nutrients to promote healthy joint tissues.* Each 4-capsule serving includes the following:
Glucosamine. Glucosamine is a naturally occurring chemical found throughout the human body, including in the fluids surrounding joints. This formula contains Glucosamine sulfate 1,500 mg, the form of glucosamine used most often in research.
Chondroitin. Chondroitin is another naturally occurring chemical, found in cartilage around joints in the body. Included are 1,200 mg of chondroitin sulfate, the most widely available and commonly used form of this nutrient.
MSM. Methylsulfonylmethane, or MSM, is an organic source of sulfur that the body uses to maintain normal connective tissues.* Included are 300 mg of OptiMSM®, a patented, pure, distilled form of MSM.
Provides critical nutrients to stimulate cells to help build joint cartilage*
Provides scientifically proven ingredients that have been shown to safely and effectively promote a healthy inflammatory response*
MSM's sulfur content is used by the body to maintain normal connective tissues*
Vitamin C supports the development and repair of the body's tissues*
Vitamin C is needed to form the protein collagen, which the body uses to make skin, tendons, ligaments and blood vessels*
Because vitamin C is an antioxidant, it can reduce damage that free radicals, chemicals and pollutants cause to the body's cells*
Manganese and potassium are essential minerals
*These statements have not been evaluated by the Food and Drug Administration. This product is not intended to diagnose, treat, cure, or prevent any disease.
---