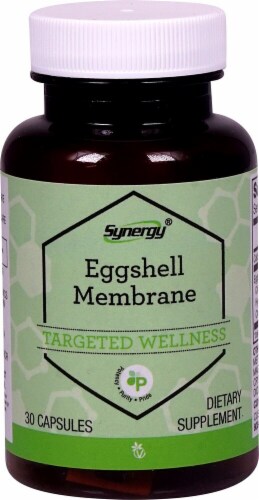 Hover to Zoom
Vitacost Synergy Eggshell Membrane Featuring NEM
Product Details
What is Eggshell Membrane?
Eggshell Membrane features 500 mg of patented NEM®, per single-capsule serving. Eggshell membrane is the tough, filmy fiber attached to the inside of eggshells. It contains naturally occurring glycosaminoglycans, including chondroitin and hyaluronic acid, plus collagen and other proteins associated with connective tissue health.
While most glucosamine, chondroitin and hyaluronic acid supplements are derived from shellfish, bovine cartilage or rooster comb, Eggshell Membrane is naturally extracted from eggshells. It's produced using a natural, solvent- and chemical-free extraction process that produces no waste. The resulting ingredient is 100% pure and free of additives, preservatives, pesticides and chemicals.
What are the key benefits of Synergy Eggshell Membrane?
Provides nutrients such as collagen, hyaluronic acid and chondroitin that are associated with joint health
Synergy Eggshell Membrane is a targeted wellness solution - just for you.
An alternative to shellfish and bovine sources of chondroitin and hyaluronic acid
Supplies 500 mg of eggshell membrane per single-capsule serving
Features Eggshell Membrane NEM®, a patented, clinically studied ingredient with GRAS status
Vegetarian capsules
Contains 30 servings per bottle
Better value than other eggshell membrane products on the market!
*These statements have not been evaluated by the Food and Drug Administration. This product is not intended to diagnose, treat, cure, or prevent any disease.
---