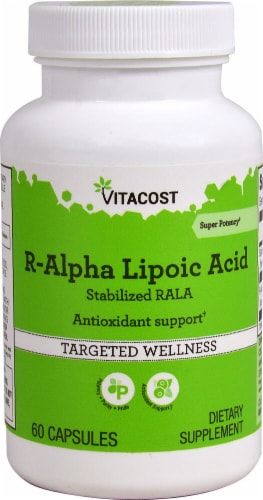 Hover to Zoom
Vitacost R-Alpha Lipoic Acid Stabilized RALA
210 mg --60 Capsules
UPC: 0083500300587
Product Details
What is R-Alpha Lipoic acid?
R-Alpha Lipoic Acid (RLA) is the naturally occurring form of lipoic acid, a nutrient present in every cell of the body, essential to chemical reactions that allow the body to produce energy.* The body produces very little alpha lipoic acid and it is difficult to obtain sufficient quantities through diet alone.
Lipoic acid has been called "a universal antioxidant" because it's effective as an antioxidant in water-based environments, such as blood, yet its reduced metabolite, dihydrolipoic acid (DHLA), is also effective in protecting fatty tissues and membranes.*
The "R" form is considered the biologically active form, identical to that produced by the body. Unlike other forms of lipoic acid, RLA is bioavailable and more stable in the body.
What are the key benefits of Vitacost® R-Alpha Lipoic Acid Stabilized RALA?
May promote cardiovascular health by protecting against free radical damage.*
Regenerates the antioxidant activity of vitamin C, vitamin E and coenzyme Q10.*
May increase levels of glutathione, the body's most important antioxidant.*
Vitacost® R-Alpha Lipoic Acid Stabilized RALA is a targeted wellness solution - just for you.
R-Alpha lipoic acid, stabilized RALA.
One bottle contains 60 one-capsule servings.
Exceptional quality at an extraordinary value.
Potency • Purity • Pride
Plus, all Vitacost® supplements adhere to the FDA's Current Good Manufacturing Practices (CGMPs), ensuring that they are manufactured to high standards of POTENCY, PURITY, e
*These statements have not been evaluated by the Food and Drug Administration. This product is not intended to diagnose, treat, cure, or prevent any disease.
---