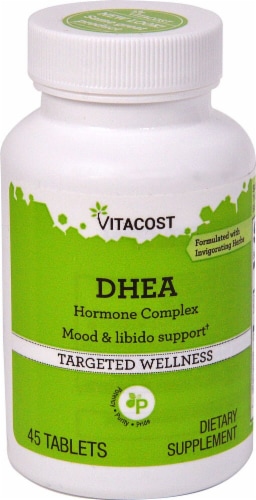 Hover to Zoom
Vitacost DHEA Hormone Complex
45 Tablets
UPC: 0084419701596
Product Details
What is DHEA Hormone Complex?
DHEA Hormone Complex is a specially formulated blend of DHEA to support healthy hormonal balance and high-quality standardized herbs used traditionally for libido and mood support.*
DHEA (dehydroepiandrosterone) is a hormone made by the human body, secreted by the adrenal glands, that serves as a precursor to female and male sex hormones (estrogens and androgens).* DHEA begins to decrease in the body starting around age 30.*
Other key ingredients in Vitacost DHEA Hormone Complex include:
Tribulus terrestris: An herb, also known as puncture vine, that grows in tropical climates and has been used in Greek, Chinese and Indian cultures to support many aspects of health. Contains protodioscin, a saponin, which is believed to be one of its major, active compounds.
Yohimbe: An African tree whose bark contains an active component called yohimbine. Used traditionally to support male and female sexual health.
Saw palmetto: From the Serenoa repens, a palm tree with saw-like leaves and red berries that grows in warm climates such as those in the southeastern U.S. and California. Decades of research support saw palmetto's safety and efficacy.
Trans-resveratrol: The biologically active form of resveratrol, a natural plant compound found in grape skins and seeds that functions as an antioxidant.*
Zinc: An essential trace mineral that plays a part in many body functions.
What are the key benefits of Vitacost DHEA Hormone Complex?
DHEA supports male and female hormone balance*
DHEA helps maintain stable mood and a sense of well-being*
DHEA maintains the health and function of the adrenal glands*
Tribulus terrestris may help increase sexual desire*
*These statements have not been evaluated by the Food and Drug Administration. This product is not intended to diagnose, treat, cure, or prevent any disease.
---