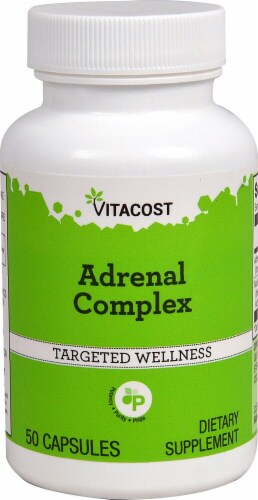 Hover to Zoom
Product Details
What is Adrenal Complex?
Adrenal Complex is a specially formulated blend of nutrients, including a Multi-Glandular Complex Blend and a unique Adrenal Cortex Substance.
The adrenal glands are small, triangular glands located on top of each kidney. The adrenal glands produce hormones such as cortisol and estrogen, and chemicals such as dopamine and adrenalin, that help regulate metabolism and chemical balance in the body. Adrenal gland health is necessary for overall good health and energy production.
What are the key benefits of Vitacost® Adrenal Complex?
Supplies Multi-Glandular Complex Blend and Adrenal Cortex Substance
Vitacost® Adrenal Complex isa targeted wellness solution - just for you.
One easy-to-swallow capsule per serving
Contains 50 servings per bottle
Great value!
Potency • Purity • Pride
All Vitacost® supplements are formulated to deliver the level of support you expect and deserve. Whether you're shopping Vitacost® vitamins, minerals, herbs or other key nutrients, their potency is guaranteed – what's on the label is what's in the bottle. Plus, all Vitacost® supplements adhere to the FDA's Current Good Manufacturing Practices (CGMPs), ensuring that they are manufactured to high standards of POTENCY, PURITY, efficacy and safety. We take PRIDE in what we do, which is why we promise if you don't love your product, we'll take it back – even if the bottle is empty.
*These statements have not been evaluated by the Food and Drug Administration. This product is not intended to diagnose, treat, cure, or prevent any disease.
---