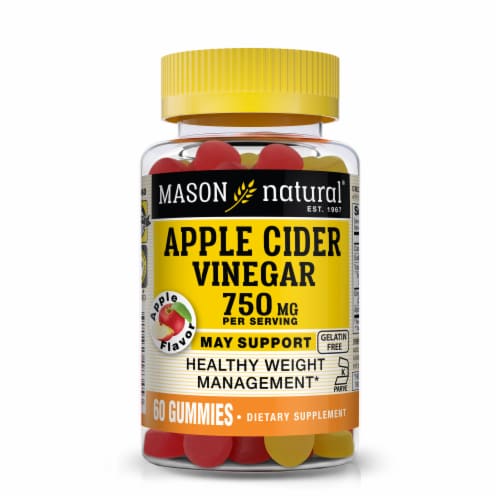 Hover to Zoom
Mason Natural® Apple Cider Vinegar Dietary Supplment - Gummies
Product Details
Medical literature suggests that, when consumed with a meal, Apple Cider Vinegar (ACV) may help lower spikes in blood sugar levels, provide satiety and fullness as well as promote all natural detoxification. ACV may help in the stimulation of AMPK, the enzyme involved in maintaining healthy caloric metabolism. By supporting the normal metabolism of caloric intake, ACV may help support weight management goals. Ingesting ACV at mealtime could help lower caloric intake, which may lead to a healthier weight. For those in search of a healthy way to manage weight and detoxify naturally, a daily addition of Apple Cider Vinegar to your diet could prove to be beneficial.
Mason Natural Apple Cider Vinegar gummies contain a unique blend of pure apple cider vinegar and ginger dry extract to support a healthy weight, improving body processes and overall health
*These statements have not been evaluated by the Food and Drug Administration. This product is not intended to diagnose, treat, cure, or prevent any disease.
---