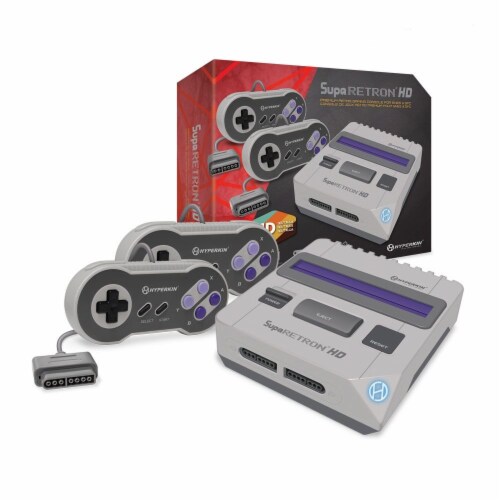 Hover to Zoom
Hyperkin SupaRetron HD Gaming Console
Product Details
Aw snap! The 90s are back with the raddest console to hit your crib. The SupaRetroN HD is 16 bits of high definition nostalgia, it is compatible with Super NES® (NTSC and PAL) and Super Famicom™ cartridges in crisp and vibrant 720p HD. It includes TWO premium classic-style controllers, a 3 ft. HD cable (supports 4:3 and 16:9 aspect ratio), and a 6 ft. Micro charge cable. You can even play via AV with the provided AV cable. There's no doubt the SupaRetroN HD is a proper celebration of the past and future of retro video games. Dust off those carts and get to work!
Benefits:
HD audio and video (720p)
High compatibility for NTSC AND PAL Super NES® cartridges (via bottom case switch)
Hyperkin - engineered Perfect Pin™ technology sets a new standard for state-of-the-art, high-quality pins.
16:9/4:3 aspect ratio switch (Patent Pending)
(2) x 'Scout' premium classic-style controller (8 ft. cable)
3 ft. HD cable
6 ft. Micro charge cable with USB AC Adapter.
Also includes AV ports with AV cable *If AC adapter is not included, we strongly advise you use a 5 volt 1 AMP USB wall AC adapter.
---