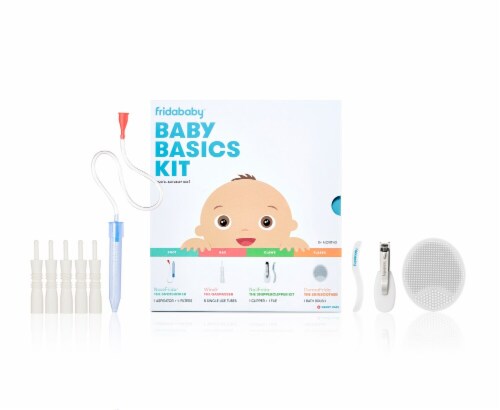 Hover to Zoom
Fridababy Baby Basics Kit
Product Details
When [IT] Gets Real, You''ll Be Ready.
Bringing up baby? There''s a kit for that. This Baby Basics Kit has the fuss-busting solutions parents really need to keep baby healthy + clean from nose to toes.
[WTF] WHAT''S THE FUSS?
Kit Includes:
Stuffy Nose? NoseFrida® the SnotSucker
The cult favorite natural, hygienic baby booger buster. Suck it, snot.
1 NoseFrida® nasal aspirator
4 disposable hygiene filters
Gassy Tummy? Windi® the GasPasser
Instant, natural gas relief through a doctor-invented hollow tube that lets gas escape and calms colic. Pass that gas.
5 single-use gas relief tubes
Trimming Trouble? NailFrida™ the SnipperClipper Kit
Designed for little fingers, a clipper-meets-scissors mashup with a safety syphole so you can see where you''re clipping, plus an S-Curved File to smooth rough edges. Ditch the mitts.
1 nail clipper
1 S-Curved file
Scaly Skin? DermaFrida the SkinSoother
A baby bath spa in the palm of your hand, keeping baby''s skin healthy + flake-free head to toe. Glow baby, glow.
1 silicone baby bath brush
+ Carry Case
NoseFrida® the SnotSucker, NoseFrida® Hygiene Filters - Made In Sweden
Windi® the GasPasser - Made In Sweden
NailFrida™ the SnipperClipper Kit - Made In China
DermaFrida the SkinSoother - Made In China
---