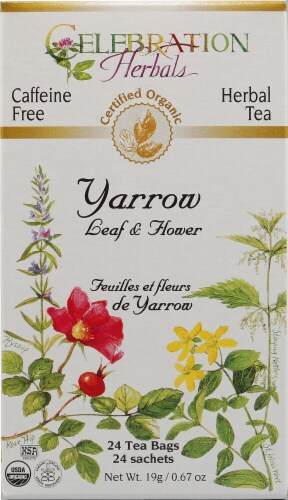 Hover to Zoom
Celebration Herbals Organic Yarrow Leaf and Flower Tea Caffeine Free
24 ct / .67 oz
UPC: 0062824020194
Product Details
About Yarrow...
Yarrow has a history dating back as far as the battle of Troy, where it was used to treat injured soldiers and adopted the common name of ''soldier''s woundwort''. The ancient Greeks gave Yarrow the name ''Achillea'' after Achilles, the legendary heroic warrior.
This perennial herb grows to about 3 feet tall and is found in Europe, west Asia, and North America. The white flowers appear in flat, daisy-like clusters. It may be found in pastures, meadows, and along roadsides.
Yarrow makes a very good medicinal tea with a strong, astringent taste.
Better herbs make Better Tea
No flavorings, preservatives or sweeteners of any kind.
It all starts with the herbs. Celebration Herbals is dedicated to bringing you the best tasting teas, grown and processed as close to "the way nature intended" as possible and never irradiated.
Our herbs are grown and harvested with the highest standards of quality control. You can trust our new special designations - Certified Organic, Ethically Wildcrafted, and Pure Quality.
We are committed to the environment. In this box you won''t find any strings, tags, or staples in our chlorine free bags. In addition, our boxes are made from 100% recycled board. A resealable freshness bag is used to extend the quality and life of your tea.
We hope you enjoy the beneficial pleasure of drinking these teas as much as we have enjoyed blending, hand crafting and packaging them for you.
Herbally Yours,
Celebration Herbals
---