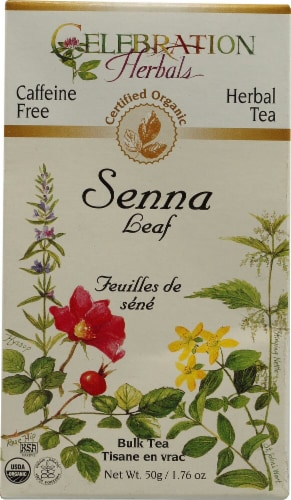 Hover to Zoom
Celebration Herbals Organic Senna Leaf Bulk Tea Caffeine Free
1.76 oz
UPC: 0062824020682
Product Details
It all starts with the herbs. Celebration Herbals is dedicated to bringing you the best tasting tea, grown and processed as close to "the way nature intended" as possible and never irradiated.
The herbs are grown and harvested with the highest standards of quality control. You can trust the new special designations - Certified Organic, Ethically Wildcrafted, and Pure Quality.
Celebration Herbals are committed to the environment. In this box you won''t find any strings, tags, or staples in the chlorine free bags. In addition, the boxes are made from 100% recycled board. A resealable freshness bag is used to extend the quality and life of your tea.
We hope you enjoy the beneficial pleasure of drinking these teas as much as we have enjoyed blending, hand crafting and packaging them for you.
Herbally Yours,
Celebration Herbals
About Senna...
The use of Senna as an herb apparently predates written records. It is native to Arabia and Somolia, but now grows in most tropical parts of the world where there is rich soil.
This Senna, also called Alexandria Senna, reaches up to 3 feet height and has pale green stems with brittle, olive green leaflets, which are usually consumed as a tea. Senna is frequently combined with aromatic herbs such as Cinnamon, Ginger, Anise and Fennel. Try adding fruit to make a tasty treat.
---