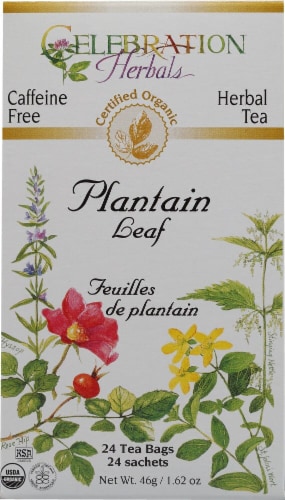 Hover to Zoom
Celebration Herbals Organic Plantain Leaf Tea Caffeine Free
24 ct / 1.62 oz
UPC: 0062824020172
Product Details
Plantain has been used as a panacea in some Native American cultures and with some very good reasons. Many of its active constituents show antibacterial and antimicrobial properties, as well as being anti-inflammatory and antitoxic. The leaves, shredded or chewed, are a traditional treatment for insect and animal bites and the antibacterial action helps prevent infection and the anti-inflammatory helps to relieve pain, burning, and itching. There is some investigation ongoing to study its affects on lowering blood sugar.
Plantain is very high in vitamins A and C and in calcium. Medicinally, Native Americans used plantain leaves to relieve the pain of bee stings and insect bites, stop the itching of poison ivy and other allergic rashes, and promote healing in sores and bruises. Plantain tea can be used as a mouthwash to help heal and prevent sores in the mouth, and as an expectorant. Most recently, plantain is being marketed as a stop smoking aid, adding one more use to the list of ways that this versatile herb is useful.
Better herbs make Better Tea
No flavorings, preservatives or sweeteners of any kind.
---