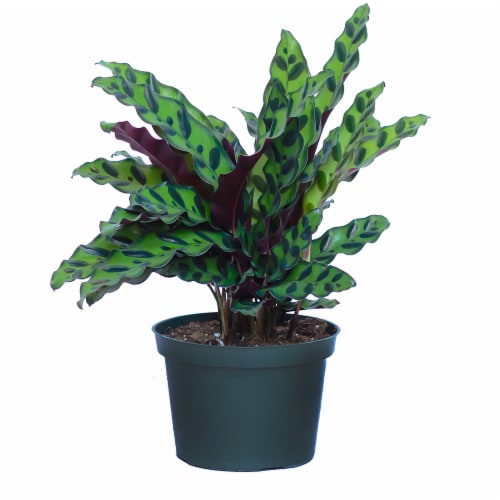 Hover to Zoom
Calathea Rattlesnake Potted Plant (Approximate Delivery is 2-7 Days)
6-inch pot
UPC: 0081005417725
Product Details
The Calathea lancifolia, or more commonly known as the Calathea Rattlesnake plant, is a decorative perennial with strappy, spotted leaves and deep purple undersides. You can grow this tropical plant outdoors and will do well in cooler climates. The rattlesnake plant can easily be grown indoors as well. Native to the Brazilian rainforest, rattlesnake plant thrives in moist, warm, semi-shady climates.
The Rattlesnake plant is a real attention-getter, growing to heights of 30 inches (76 cm.) and sometimes more. Like other calathea plants, it is so named for its attractive foliage and interesting patterns. This plants unique foliage makes it the perfect choice to add some flair to your home or office space. Indoor house plants are proven to be excellent air purifiers which help decrease stress and anxiety while stimulating creativity and productivity. Great for yourself or as a gift!
We do not ship to California, Arizona, Hawaii, Alaska or Puerto Rico. We do not recommend shipping to extremely cold weather states.
As one of the most visually striking houseplants, the leaves are its main attraction.
You can't miss the spotted green leaves with its deep purple underside, which will make this plant an excellent addition to any home or office setting.
The Rattlesnake plant will adjust quickly to its environment and will thrive with a good balance of medium light and shade.
---