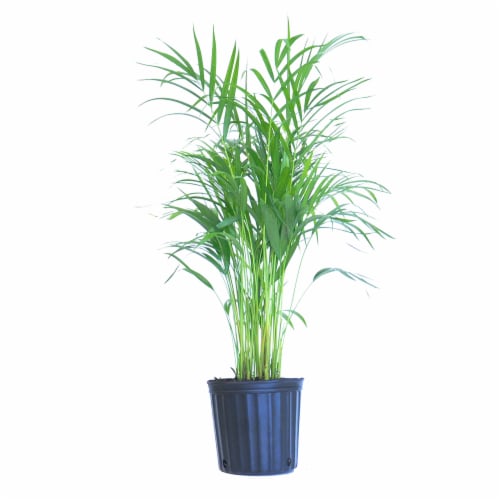 Hover to Zoom
Areca Palm Potted Plant (Approximate Delivery is 2-7 Days)
9.25-inch pot
UPC: 0081270802919
Product Details
The Areca Palm, also known as golden cane palm, yellow palm or butterfly palm can make any space a lush tropical paradise. Known for its thick feathery arching fronds this palm is one of the most popular because of its beautiful appearance. Although they can grow to a mature height of more than 10 feet, a young Areca makes a beautiful lush indoor plant in any size container. The Areca thrive in areas with plenty of sunlight and prefer their soil slightly moist to the touch. To beautify your plant use containers with drain holes to drain excess water and keep your plant healthy. Indoor house plants are proven to be excellent air purifiers that removes pollutants and chemicals from the air for healthy living. Studies show that house plants can decrease stress and anxiety and stimulate creativity. Great for yourself or as a gift!
A woodland plant native to full and partial shade, matures to 30 inches tall and is an excellent choice for a house plant. The Dypsis lutescens is the perfect indoor plant and the perfect gift!
The Areca Palm earns its common name from the colors. With hints of golden yellow and its alluring green color is a perfect fit for the summer.
We do not ship to California, Arizona, Hawaii, Alaska or Puerto Rico. We do not recommend shipping to extremely cold weather states.
The Areca Palm is a pet friendly plant.
---