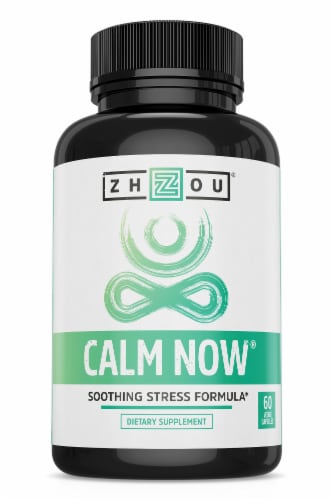 Zhou Calm Now Veggie Capsules
---
Other so-called ' chill pills ' and supplements can make you sleepy, but Zhou Nutrition knows you need to keep calm AND stay focused to win the day. You also want to enjoy a positive mood so you can be the best version of yourself- relaxed, focused, and positive, which is why we designed Calm Now. You have days when you feel like you woke up already behind? You're stressed out before your feet even hit the floor. Well that, my friends, is no way to live! Calm Now was formulated with the modern busy person in mind. Whether you've got a fast-paced day ahead at home, the classroom, or the office, we're here to help. Try Calm Now, and get ready to "carpe diem"! We work with a diverse team of experts from around the world to bring our customers the very best combination of both Eastern herbal tradition and modern research. As a result, Calm Now contains just the right amount of each herbal ingredient for optimal results. Ingredients include Ashwagandha, Rhodiola Rosea, Passion Flower, Bacopa Monnieri, Hawthorn Berry, Lemon Balm & More.
Soothing Stress Formula
Mood and Relaxation Formula
Made with Non-GMO Ingredients
Greatness By Nature™
*These statements have not been evaluated by the Food and Drug Administration. This product is not intended to diagnose, treat, cure, or prevent any disease.
---