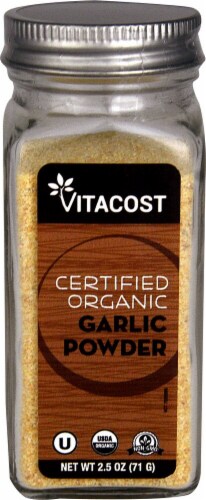 Hover to Zoom
Vitacost Certified Organic Garlic Powder
Product Details
Vitacost® Organic Garlic Powder adds spice to your life
Did you go overboard? When you're showering your best friend with birthday presents, that's perfectly acceptable. When you're seasoning dinner with fresh garlic, it's not quite as OK. Even just one clove can wipe out the other flavors like a tidal wave. There's a simple solution: keep a lid on the pungent spice by opting instead for Vitacost® Organic Garlic Powder.
Garlic powder is simply dehydrated garlic. Once finely ground, you get Vitacost® Organic Garlic Powder. The light-as-air texture means it easily mixes into chili, casseroles, sauces, dry rubs and other combination dishes without steering the taste too far off course. If you want garlic to be the anchor (on toasted bread or roasted veggies), simply add more powder – gradually. Unlike a fresh clove, Vitacost® Organic Garlic Powder lets you easily control the potency in your recipe so your guests don't jump ship.
What's the best way to cook with Vitacost® Organic Garlic Powder?
• Use to make a dry rub for meats
• Stir into chili, sauces & soups
• Use to season homemade French fries
• Mix with olive oil and drizzle over toasted bread
• Sprinkle over hearty vegetables before roasting
Check the Tips & Recipes tab for many more great uses of Vitacost® Organic Garlic Powder
About Vitacost®
Vitacost® products are manufactured to high standards of quality and safety. Each Vitacost® product meets or exceeds the standards and requirements set forth in the FDA's Code of Federal Regulation (21 CFR, 110) Current Good Manufacturing Practices (cGMP).
---