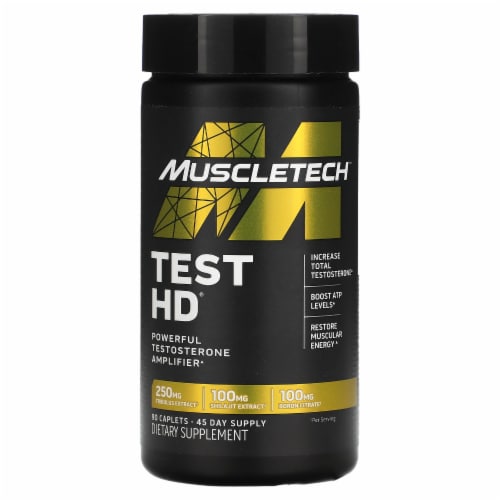 Hover to Zoom
MuscleTech Test HD Harcore Testosterone Booster Rapid-Release Caplets
Product Details
No Proprietary Blends
No Fillers
No Underdose Key Ingredients
No Hype
No Banned Substances
No Exceptions
Hardcore Testosterone Booster
The key ingredients in Test HD have been shown to significantly increase testosterone levels. Test HD requires no cycling on and off and is formulated with scientifically researched ingredients such as shilajit and boron. Test HD also contains other well known ingredients including stinging nettle root, tribulus, velvet bean and zinc.
Boost Free Testosterone in 7 Days
Test HD is formulated with a concentrated and powerful dose of boron that is shown in human clinical research to increase free testosterone and decrease estradiol in just 7 days. Free testosterone is the most active form of testosterone and is critical for initiating the muscle building process.
Increases Total Testosterone
Test HD is the first hardcore testosterone booster to include a clinical-strength dose of shilajit, a rare organo-mineral compound obtained from steep rocks of different formations found in the Himalayas and other high mountains.
This Powerful test-boosting compound is shown in a human clinical study to significantly increase total serum testosterone levels as documented after 90 days.
The same shilajit ingredient is studied and documented to boost ATP blood levels/concetration in just 15 days ATP is the cellular energy used by the body and is real energy, unlike perceived energy that occurs with CNS stimulants.
*These statements have not been evaluated by the Food and Drug Administration. This product is not intended to diagnose, treat, cure, or prevent any disease.
---