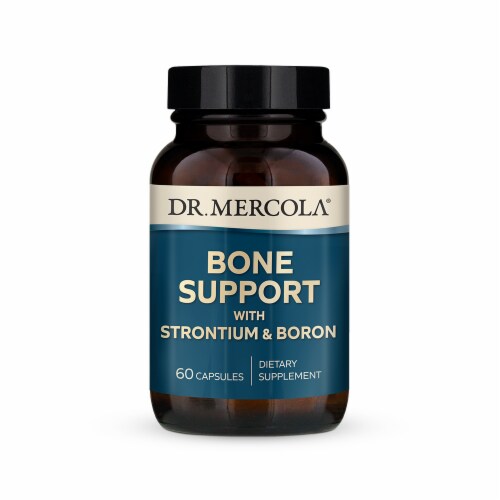 Hover to Zoom
Dr. Mercola Bone Support With Strontium & Boron Capsules
Product Details
It's estimated that 34 million Americans have low bone mineral density, which raises the risk of fractures and development of brittle bones. Postmenopausal women are particularly at risk – 84% have either brittle bones or are on their way to developing the condition.

An adequate supply of vitamins and minerals is needed to support healthy bone remodeling, the process that renews bone, repairs damage and maintains bone strength. These nutrients include manganese, boron, silicon (or silica), strontium, calcium, magnesium and vitamins D3 and K2.

Each serving of our Bone Support with Strontium & Boron provides a daily supply of:
Strontium Citrate – the only mineral known to both stimulate bone-building cells for new bone formation while at the same time slowing down the activity of bone-destroying cells.*
Boron chelate – a trace mineral primarily found in your bones and teeth that helps reduce your losses of calcium, magnesium and phosphorus.*
Manganese chelate – an essential trace element that acts as a cofactor for many enzymes and helps increase bone mineral density and bone formation.*
Silica from Living Silica™ monomethylsilanetriol (MMST) – a doctor-developed, patented form of silica that supports the regeneration of new bone and helps maintain bone thickness and elasticity.*
As part of your total bone health care plan, Bone Support with Strontium & Boron is designed to be used with our Calcium with Vitamins D3 & K2.

The most important time for building healthy bones is during the first three decades of life, so start supporting your bones and overall health now with Bone Support with Strontium & Boron, and order your supply today.*
---