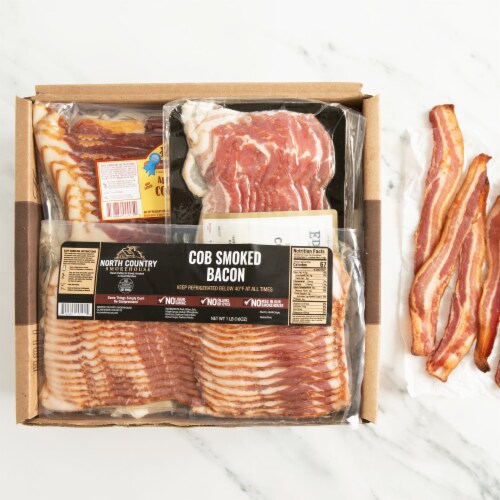 Hover to Zoom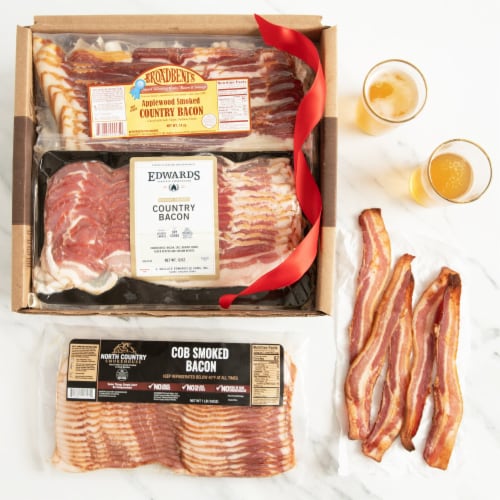 Hover to Zoom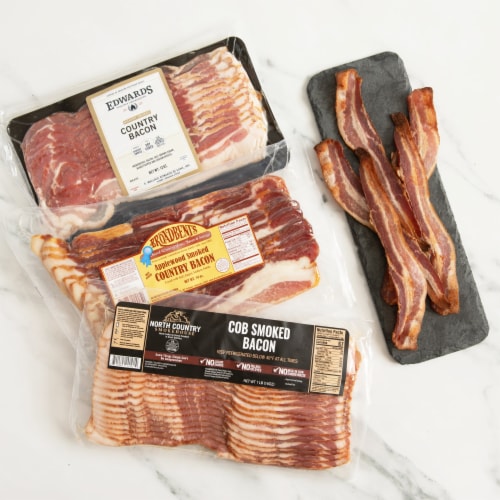 Hover to Zoom
Bacon Lover's Feast in Gift Box (2.6 pound)
Product Details
Bacon! The name alone triggers memories of lazy Sunday brunches, hot winter breakfasts, a crisp and smoky indulgence on a sandwich, or luxuriously ringing a choice cut of filet mignon. No matter what connotation, a thick cut of your favorite bacon brings to mind, you are sure to love this sampler of three different bacons. It includes a sampling of three different regional styles - Southern, Northern and European - will nuances that range from sweet and salty to peppery to gamey. Packed in our signature brown igourmet.com gift box, this is the perfect present for your favorite bacon lover.Includes:
Broadbent's Kentucky Bacon: A smoked bacon from one of our favorite Kentucky producers. Broadbent has been making bacon for over 100 years, theirs is dry rubbed so there is less shrinking in the pan. (14 oz)
North Country Cob Smoked Bacon: Representing New England, This artisan bacon from New Hampshire is smoked over corn cobs rather than hardwood, adding increased smokiness to the bacon. Made exclusively from antibiotic-free pork without the use of preservatives or nitrites. (16 oz)
Hickory Smoked Virginia Bacon: The Edwards family has produced Virginia's finest hams, bacon, and sausage since 1926. They still use Pop Pop's curing recipe and still smoke bacon the way he taught: slowly and patiently in your own smoke house. (12 oz)
Please note that any item temporarily out of stock will be substituted with a similar item of equal value.
---